In our very first episode, we speak to Nandan Krishnaswamy from Mumbai.

A Copywriter and life long Manchester United fan. To begin with we ask him, how his journey with the football club started.

Followed by the players who deserved a bit more of our praise and what he's looking forward to in the coming years.

And he also shares with us, an interesting tale of a (now cherished) Ronaldo jersey.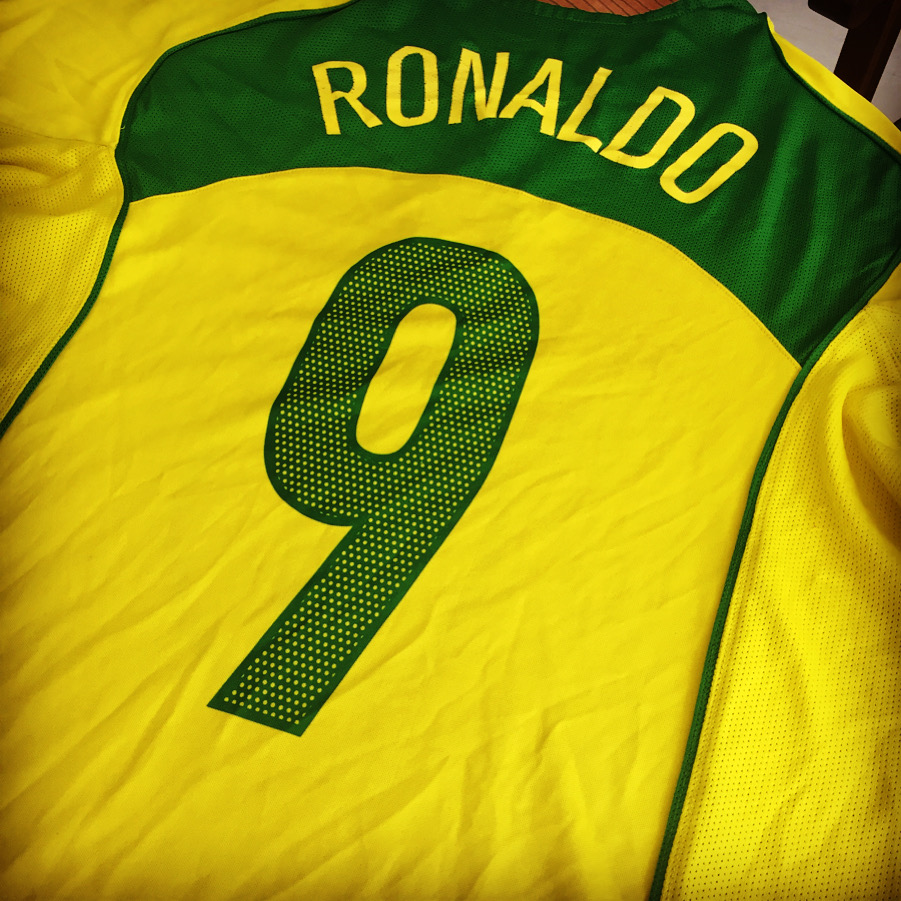 To subscribe via your favourite podcast platform click here.
Nandan: Hi, I'm Nandan I live in Mumbai and I am a fan of Manchester United

I know hi sean hiding was the coconut water nice it is quite pleasant some i just spilled somewhere i don't know who did that find out soon enough soon enough so tell me how and why manchester united manchester united for me has always it's at least been slightly a family thing okay in that when i was old enough to start watching and following football my father had been an avid fan for decades and he he's the one who introduced me to like i mean we used to i used to play football on the streets like most kids he's the one who introduced me to watching football and in fact i think there were a couple of other kids in the building as well and he introduced them to manchester united as well and so we became a little manchester united fan club just in our little building and like i think primarily came a little late to india anyway so we sort of grew up with initially with stories of apart from stories of countries at the world cup the club we used to hear about most often was manchester united so tell me what is the earliest memory of the club earliest memory of united is i don't remember like many of the details but it was just this sort of flowing counter attack move that ended with i think someone who i think nisselroy and nisselroy just started chipping the keeper final at the last just as the keeper was rushing out though the one that i do remember reasonably clearly was again a van nestle roy memory where he was playing against sunderland he received the ball on his chest executed one of those lovely little turns and then just fired it into the back of the net and it was one of those classic shots where he hit it so hard that when it hit the net the ball was still rising so the keeper had absolutely no chance of stopping it are you someone who's interested in the history club do you look it up read up it's very on and off that like when i started following united i didn't really i wasn't really that much into the history of the club and to be fair like even once i started following it it was very on and off it was only as i grew older that i started to grow closer to the club but otherwise earlier it's it's always just nice to support a team and this is the team that had been passed down to me you mentioned gigs as collaboration actually you didn't just mention gigs you wrote gigs gigs gigs yes gigs like giggs was the constant like as much as alex ferguson has always been a part of manchester united and an essential part of manchester united as far as i was concerned it's the same with gigs you know some games he didn't play but he was always the one who was tearing up the tearing up that left hand tearing up that left flank and he would just do it so well and he made it look so easy and it's just it's that some of that classical looking dribbling where he just the tiniest little [ __ ] and he'd just find a way through about two or three players i mean most famously in the i was hoping you wouldn't break that up but yeah fa cup final against arsenal that was some moment definitely but it was i remember him more along the like it's not one specific moment but just the thing of him running along the touch line the left touch line where he'll have he'll be going just she'll he'll be shielding the ball a little bit he'll do a little drink and he'll get past the me he'll get past the opposing winger who's trying to take him down and then there'll be the full back and then then he'll sort of pretend he'll either pretend to cut in and then just quickly go to go ahead or do a little cry turn and turn it back in and just the variations were endless and he just always made it look so easy and the amazing thing is that even so he's had an unusually long career for like most footballers let alone a winger but even back then it was just that he would always just keep going um i mean then like now you look at you look back at it and he is the like he has the most assists like in terms of numbers he has the most assists of anyone in the premier league history and i think he was only till recently he had the most appearances in the premier league and he started playing before it was the premier league right so that just shows just the massive span of his career and again more than anything else the biggest thing was that he was a joy to watch like beckham had these beckham on the right was it was great watching him and he had these beautiful crosses and he would make these lovely long balls and later on of course the thing people a lot of people remember him for is the half line goal and like and the free kicks but i always like i loved players who dribbled and went through the team much more than just the like the pinpoint those who could deliver pinpoint crosses so it's odd here okay of like you know dribbling and then through balls and then at the end there is crossing because it just it just looks so much nicer when you when a player leaves the opposing team in the dust and struggling to keep up who is the biggest rival for manchester united liverpool liverpool yes i would have thought city i mean liverpool liverpool were manchester united before the premier league as a liverpool supporting friend in school never failed to remind me they were the most successful club it's a weird difficult thing just as it's a weird things when manchester united and arsenal play and like you know i love the way i like the way arsenal play but i support manchester united similarly it's we are balancing these the two rivalries of city and liverpool but i think

Liverpool just Liverpool fans would be unbearable if they finally won I think that is the straw that tilts it in favour of city

so you played uh football as a kid yes was there someone you tried to emulate not i don't think there was anyone in particular like i was a big fan of wingers like ronaldinho and like messy later on but it was i was never skillful enough to manage things like those so instead i essentially used to play as a right footed left roll back i was never very good i was fine without the ball they say but once you with the ball i was not one of those players who would dazzle you with the ball at their feet so that way i would have i would not have been too uh too bad i say as a defensive midfielder in the current football setup where i'm good without the ball but once i get the ball i will just try and get it away from me as fast as possible whether that's through a short pass to a more competent player nearby or just a long point up front so i'm going to ask you now about players who you think didn't get their due while at the club um again my this is very much a personal thing but i think my favorite players who didn't quite get the reception and the respect that they should have were devils carlos stevens and dimitar barbita so and that was kind of both of them were there around the time of that ronaldo was just coming up so he was the he was like clearly very talented and exciting young prospect and it was also just when rooney was coming into his own as the great english hope because when rooney came to united from everton he was still very young he joined united i think he was about 17 in 2004 or so and then around 2008 which is when which is about when all of these come all of them combined and like that was 2008 9 was a big season for us our sort of front three there were uh ronaldo terrace and rooney and of those two you can clearly see how this would be sidelined and that was always one of those it's an interesting combination of hardworking and talented and that he did a lot of the things that he did would not the attractive creative strike things an attractive creative striker would do like he could fight and duke it out with a tough central with a tough center back but he was also just capable of these beautiful turns where he'd take two or three defenders out of the game before touching the ball just by the way he moved his body and then with a little touch he'd just get away from all of them and similarly uh berbertov sort of came in once ronaldo had left for madrid that was 2008 2009. again so i think yeah 2009 and then after that ronaldo was the most expensive player in the world and we sold him cheap but yes burbetov came in and then it was still very much about it uh it still felt like you know then we had to sort of because berbatov came in from spurs and we felt we had to keep the united soul running so we still had all the we had our faith in shoals and rooney and the shoals loved perpetua for the same reasons that many of the fans loved him was that he could fire a long ball from anywhere at the pitch and burpito would just bring it down like he was holding a baby bobotov could run carrying a baby on one foot and the baby would not wake up he has here he had the best first touch in the business that was sublime the error is defined by one player i think right now most people would define it as maybe the time of messi who do you think it was for you in that time when you were growing up um it's there's always a couple of players though but i think like the sort of prime hit the spot when i was really sort of getting into football was ronaldinho because it was that time when he would just moved like he had before he moved to barcelona he was already known from the brazilian national team for the tricks he did and it was essentially because of him that like fifa released like you know fifa street at the video game and just he was clearly having so much fun yeah like and everyone kind of wanted to be like him it says something that he was the most popular player in the world at around the time that jose mourinho was making was bringing about the complete transformation of football through defensive organization like first at porto and then at chelsea but at that time i think that ronald jr was the most he was the biggest player at the time we talked about a lot of players and positions but there's one we haven't spoken about is the goalkeeper and the gear here is he legend already legend let me put it this way since coming to united he has been united's player of the year almost i think every year but one and he has been the premier league goalkeeper of the year i think again every year but one he's

up there he's just he may not be quite as say good with his feet as in as an edison or an allison but in terms of like just as keeper it's hard to get better than him

having said that he's the he's been having a bit of an off year this year but he's made a few mistakes so i think those have been more for country than for club for which we are met non-spanish manchester united supporters are thankful but at an everyday level he is very good and once in a while he will pull out these performances that are just astonishing he is i still think he's the best keeper in the world

is that any young player who is not getting his chance right now i can't wait for andreas pereira to get a little more experience because he was very good when he played when he was on loan at valencia and he showed that he had a lot of potential but i think in the current setup there's just one there's too much better competition like he cannot compete against a martial or a rashford and he prefers to play more centrally in which case the attacking midfield birth is almost by default taken up by pogba in which case he cannot he's nowhere near as good a defensive midfielder as nemanja matic and he's not a defensive midfielder so one so i'd like to see him either on the wings or just in central midfield or attacking midfield the other is mcdominate i mean what whatever you want to say about the complete disaster that was mourinho's final season at united he knew that like he saw that mcdominy has the potential to become a very good defensive midfielder which is why like even under seoul shah mcdonough continues to get more chances per match and matic is old and not as mobile as he used to be mcdominy is good enough to fill in at that pace of midfield or as a part of a midfield pivot

thanks for being on board thank you sean thank you for having me anything else you want to talk about i just i'm just hoping we get like a good defender there if nothing else a defender a good defender who last three or four years and then and that none of our young players are tempted to wait at the big to bigger clubs it's astonishing as a it's a little disorienting as a united fan from like you know the late 90s in the early 2000s to say we are worried about bigger clubs and yet such as the state of global football that there are often at least about five football clubs who could beacons like who could say be considered bigger as than manchester united as things stand so i can't wait for us to get back into that like the biggest clubs in the world

in 2006 ronaldinho was the biggest thing in football and i was a big fan so i had at the time i had an uncle who was a liverpool fan who was working in england and my father was going to england on work but he would meet him so i asked if i wanted anything i told i told my uncle that i wanted a barcelona ronaldinho number 10 jersey several weeks had passed my father went to england he watched cricket matches and just wasted a lot of time honestly and by the time he came back he said yes i had got what you would ask for and instead of a barcelona ronaldinho number 10 jersey i got a brazil number 9 ronaldo jersey it's i was initially disappointed but looking back on it now it's i'm pretty happy with it you